Year 2, Month 10
Tupac once said, "California … knows how to party". He also said it's "the state where you never find a dance floor empty." Having grown up on the best coast, I know these things to be tried and true. I needed it now more than ever with the way work has been busting my balls lately. I am super excited to see what this weekend & Mike's wedding have in store.
I'm not entirely sure about how I feel about the institution of marriage. Most people find that curious, as my own parents have been married for over 35 years. It seems as if though nowadays there's more intent and focus put onto a wedding date than the actual marriage that should supposedly last a lifetime. Interestingly enough, the marriage industry is one of the few sectors that have not been affected by the current economic downturn. That fact, along with the depressed real estate market has actually influenced many interior designers to make the switch to wedding planning. Weddings have long been something that people have been willing to go into debt for, and that holds truer than ever today. 
All that pessimism aside, Mike is one of my best friends and I support all his endeavors. His family also happens to always been down for a good time. His clan combined with all the other jokers descending on the central California coast will definitely make this a weekend to remember. It was going to be one for the ages, especially if the four sleepless days of liquor induced debauchery at the Vegas bachelor party last month was any indication. I just hope Lela is ready for the ri-donk-ulousness that is about to take place.
We flew in late Thursday night and headed straight for a Juanitos Chavitos, a 24-hour Mexican taqueria. Two huge California burritos later, we were both stuffed and ready for bed. They did the trick, but I'd be willing to bet they're greasiness would be better suited to cap off a night of heavy drinking.  My other compadre, Smitty, was driving in early the next morning for a day full of activities.  Smitty, Lela, and I were supposed to hit up the Local Men's Warehouse for our penguin suits and last minute alterations while Mike was on shuttle service to and fro the airport. We were all then supposed to link up later with Mike's college buddy, Damien, for lunch downtown. The rest of the evening would consist of the wedding rehearsal, wining & dining at the rehearsal dinner, followed by three hours of scheduled 'shooting the shit' at the resort.
The scent and sound of bacon crackling on the stove is one of my favorite ways to wake up. Mike's fiancé, Olivia, was hooking it up in the kitchen doing the damn thing like she always does.  She had a little extra pep in her step today though. There was no barking from the dog. I looked outside and there was no smog, and I knew that today was gonna be a good day.  After shoveling down the pancakes and bacon and a huge mug of coffee, I took my leave for a satisfying Juanitos Chavitos induced movement. Smitty rolled up, had some cold breakfast and the three of us were good to go.
***
First stop: The Men's Warehouse
There are certain people in my life that I can fall right back into the same conversation with no matter how much time has passed.  My main man, Smitty, was definitely one of those people.  He was in fine form this morning. He was never one to censor him self, and I didn't expect him to do so on Lela's behalf. However, what came next was a bit of a shock.  He was describing to us one of Mike and Olivia's first intimate encounters.
Smitty said, "I knew that Mike was going to marry this chick after he told me she had the pinkest lips he had ever seen, and I'm not talking about her face! And it tasted like water! I knew my boy was down for the count." This would be nothing had it just been the two of us. I was, however, a bit nervous to sneak a peek at Lela's face for her reaction. I guess in some ways it's a bit of a compliment that he's already accepting her as one of the guys and speaking so freely. I let myself think that everything was fine, and we finished up our fittings and were onto lunch.
***
Second stop: Downtown Greek Restaurant
           We got there a bit early and decided to have some adult beverages to ease our minds and loosen our tongues.  Mike rolled up first, Damien followed shortly thereafter with some chickadee. I thought what Smitty had said earlier was shocking to Lela, but it was only a prelude to what Damien had in store for lunch.  It was just as we were telling the boys about our Juanitos Chavitos experience from the previous night, when suddenly Damien's face became deathly serious. You all should know that this dude is at least 72% full of shit, so I wasn't sure if this was just more of the same nonsense. His captivating presence convinced the table to play along with what was coming next. This wedding just happened to be taking place in very streets that Mike and Damien had once stumbled over in their college days.  Damien went on to relate how many a night had ended with an early morning stop at Juanitos Chavitos. That is until one terrible night many a year ago (cue ominous sound effect: dun - dun - dun).  Apparently on this night, there was a little something out of the ordinary in Damien's to go order. He then proceeded to pull out a picture saved on his phone and passed it me. He said, "After they let something this nasty find it's way into my Styrofoam box, I swore to myself that no matter how intoxicated I was, I would never eat at Juanitos Chavitos again!" I took the phone into my hands and stared at the tiny screen and couldn't see anything out of the ordinary.  It was a picture of Damien sitting on a couch with no shirt on for some reason. The Styrofoam container was positioned on his lap with the lid popped open. Upon closer inspection, I saw there was a plastic ramekin of salsa, and what appeared to be just some left over rice and refried beans. 
            I was like, "Damien, what the hell are you talking about?" He kept insisting that I look closer and closer. 5 minutes later, and I saw it.  I think I threw up in my mouth a little. Without even thinking, I threw the phone down on the table where it landed right in front of Lela while the rest of table exploded in laughter.  This jackass had cut a small hole in the bottom of the box and had literally stuck himself through it. What had once appeared to be a pile of leftover refried beans now revealed itself as something much less appetizing. It was similar to a 3d stereogram that requires minutes of vigilance before a picture appears. It turns out that this was Damien's go-to joke whenever someone mentioned that they had eaten at Juanitos Chavitos. I wasn't the first to fall for it, and I certainly won't be the last. Again, Lela took it on the chin and did not protest the company of merry fools we found ourselves amongst.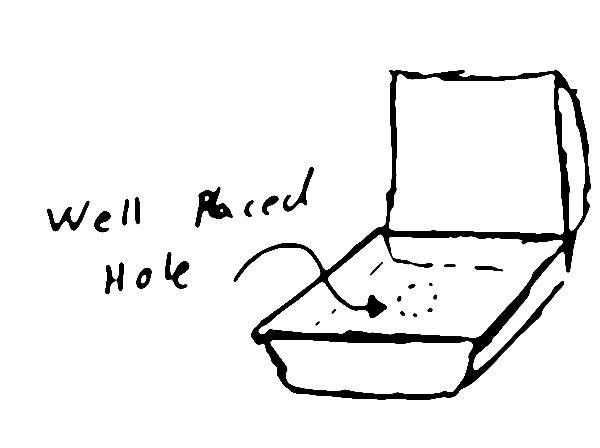 ***
Third Stop: Golf Resort for Wedding Rehearsal and Rehearsal Dinner
           Mike's family had been arriving throughout the day checking into a block of rooms in one tucked away corner of the resort. Olivia's family as well as the bridal party was mostly local. They would be driving themselves and arriving intermittently as we set up at the location of the next day's nuptials.  Fortunately, this went pretty smoothly. Before we knew it, Smitty, Damien, Lela, and I were seated together at a four-top of a nearby Italian restaurant.  The wine flowed and the hijinks ensued.  It was somewhere between the soup and entrée when I noticed Lela clearing her throat, readying her self to join in the conversation. I was glad that we were all getting along so well, or so I thought…
Lela looked directly at Smitty and Damien. She said, "I've been mostly quiet today trying to get a feel for how you guys interact with each other. Zach was so excited to see you guys again, and I was curious as to how everything would match up with all the stories I've heard.  It's been interesting to say the least. The type of people I associate with back home are more gender neutral and for them to discuss sexuality so openly especially amongst a stranger would be considered extremely low brow and vulgar. I don't even know where to began. There's you, Smitty, talking about pink lips tasting like water. Then there's you, Damien, showing me a picture of your penis within ten minutes of meeting me. I don't think I've ever met two men that are being led through life by their penises as much as you two, and quite frankly it's revolting." The looks on Smitty and Damien's faces were priceless.
Her tone was so polite and gentle that I think it took everyone at the table a few minutes to process what she had just said. After enough time had set in, it seemed as if though Smitty and Damien were actually quite entertained by this revelation. I think they might have even taken it as a compliment; although, I'm sure that was far from Lela's intent. After this turn of events, the mood was slightly subdued. We had our tiramisu and headed back to the resort. It made me think about the kind of girl Lela was and where our future together was headed. Personally, I would be way more inclined towards laughter than to taking offense at the things my friends were saying. I also knew deep down that I was probably more similar to them than the idea Lela had of me.
***
There was still one more cymbal to be struck before the band closed down for the evening. Back at the hotel, Damien and I were taking in the breeze off that cool California coast with one of Mike's aunts just outside the hotel.  She asked if either of us had ever seen her mouse tattoo. Now this woman was in her fifties and had had a few beers throughout the day (maybe more than a few). We both had no idea where this was going. We both responded with obvious ignorance towardsbany tattoo sh might have. She then offered to share with us. She unbuttoned her jeans, and slowly peeled down one flap to a slightly uncomfortable depth. Luckily for us, she stopped after a few inches and looked up perplexed and exclaimed, "Goddamnit, my pussy must have ate him!" We were rolling.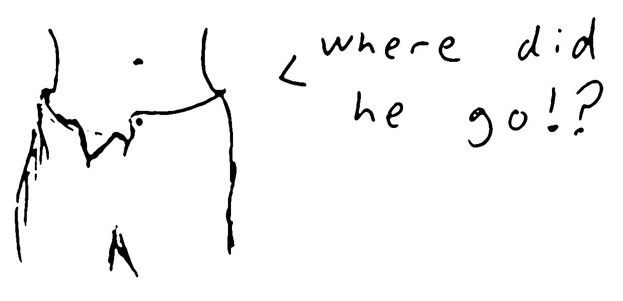 Fasil Bizuneh (3/7/12)